The exterior of your home has numerous opportunities for increasing its value. Landscaping and improving your home's exterior are smart choices, but few projects make a statement like a new concrete driveway.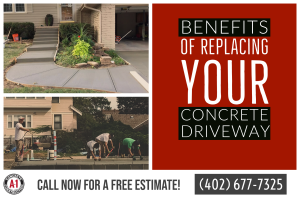 Utilizing A-1 Concrete's expertise, the team wants to express this investment can improve home value. Here are benefits of replacing your concrete driveway.
Lasts Longer
A poured concrete driveway is typically four to six inches thick, has a high pound per square inch (PSI) threshold and lasts longer than other asphalt options. If you run into future home projects that require heavy machinery, a poured driveway will most likely stand up to the weight with no problem.
Low Maintenance
Not only is concrete long-lasting, but it also doesn't require as much maintenance as asphalt.  A-1 also recommends you sweep or power wash your driveway every so often.
Like asphalt, concrete expands and contracts with fluctuating temperatures. However, A-1 is able to prevent most cracks and potholes by installing your driveway in large square concrete slabs. Many of the customers we work with appreciate that the possibility for potholes is practically nonexistent.
Easy Snow Removal
It's much easier to shovel snow from a concrete driveway than a driveway made out of gravel or pavers. When the snow flurries, you'll be grateful to have a driveway that looks good year-round and is low maintenance.
Saves Money
Every driveway should be sealed to preserve its quality. A concrete driveway needs to be sealed less often than asphalt—every two to five years compared to asphalt's one to three years. When sealed, your driveway is less likely to crack, which means fewer repairs. While concrete may be a larger investment initially, it will save you repair and maintenance costs.
A customized concrete driveway can improve any home's value.
We go the extra mile in every step of the process to ensure your driveway or project is completed to the highest standard using only the best possible materials. That's quality we are proud of and consistency you can count on. Call now! 402-677-7325