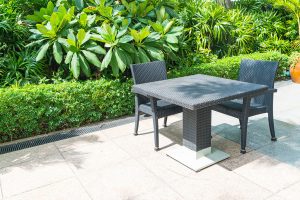 Making periodic updates to your home may improve appeal and function, but certain projects can increase your home's total value. Considering an estimated 51 percent of buyers want a home with an outdoor living space, installing a patio will be a smart decision. Not only will it add space for entertaining and relaxing outdoors with friends and family, but a patio will also make your home more appealing and valuable if you ever need to sell.
Of course, designing a patio in your backyard may seem overwhelming due to the various styles and materials available today. If you are hoping to improve your home's function, look and value with a patio, use this guide and your contractor's help to design the perfect outdoor living space.
Material
Most homeowners are surprised to learn how many different materials can be used to create a patio. From bricks and stone pavers to gravel and reclaimed wood, there are many options to consider. However, concrete allows you to create a durable, attractive and functional patio in the most affordable way.
In the past, most patios were simple slabs of gray concrete. Although functional, these slab patios lacked style, which should be an important part of your outdoor living space.
Today's concrete patios are more stylish since they can be installed in different shapes and sizes, tinted in various colors and stamped to create unique patterns.
To create a patio that resembles natural stone, consider tinted concrete with accent colors and faux grout lines. For a bit of texture and definition, opt for a stamped concrete patio in gray with a darker-colored border.
With all the different design options available, a concrete patio will be anything but boring.
Shape
Your patio does not have to be a simple square or rectangle shape off of your deck or back door. To add style to your backyard area, consider curved edges or rounded designs that wrap around your home.
When designing the shape of your patio, be sure to consider functionality. Your patio should not have so many curves and angles that placing furniture and entertaining guests will become awkward
Size
Figuring out what size patio will work is another factor that can be confusing. You may think larger is better since it will accommodate your family's needs, but a patio that is too big for your home's style and backyard size may appear overdone and out of place. This mismatched appearance can decrease the patio's appeal and value.
To determine what size patio is best, focus on your needs first. Calculate how many people you are likely to entertain at one time. You should also take furniture placement into consideration, ensuring your patio will be sized to accommodate sufficient seating or dining space for you and your guests.
If you will need a long dining table that will allow you to seat numerous guests, make sure the patio is long enough for this larger piece of furniture. If you prefer conversational seating, your patio should be wide and long enough to place outdoor chairs, sofas and occasional tables.
A 10 feet by 10 feet will create an intimate space for two. This smaller size may not be visually appealing. For a patio attached to your home, opt for a minimum size of 10 feet by 20 feet, which will balance out the size of your home and backyard.
---
Have questions or would like to get more information about your concrete project? Call us (402) 677-7325 for a free consultation.